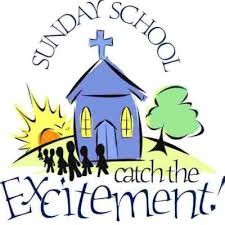 Sunday School Schedule
Sunday School is held each Sunday between Labor Day and Memorial Day
It runs from 10:00 - 11:00 a.m.
Children will enjoy Bible stories, fun crafts and more.
Children must be potty-trained and at least 3 years of age by September 1st.
Youth in 6th - 12th grades are invited to attend on a journey through the
The Youth Leader will help them understand where the biblical stories fit in our
Youth are encouraged to invite their friends!
The Golden Rule in Sunday School
In support of our staff of volunteers, we ask that children follow the Golden Rule of Matthew 7:12a. "Treat others as you want to be treated." Parents, guardians, guests, and friends are welcome to join us anytime! Extra hands are always needed to help in the classrooms.